Case Studies
Military Airport
A military airport comprising various building and civil engineering earthworks relative to the runways, taxiways and...
Gas Fired Power Station
The development of a new gas fired power station comprising all associated building and civil engineering works,...
Residential Development/Shopping Centre
A high-rise mixed development of residential apartments and a shopping centre, comprising building and civil works, ...
Off-gas Project
A BP Chemicals DF Off-gas Project with Waste Heat Boilers to a Thermox Plant, comprising of all mechanical and...
Gas Utilization Plant
A gas utilisation plant inclusive various mechanical and electrical installations, piping and instrumentation, power...
Power Station
A desulphurisation plant to an existing power station (gas and natural fossil fuel), comprising all mechanical and...
Aluminium Plant
Upgrading of an existing aluminium plant in sub Asia, including the basic design, engineering, procurement and supply...
Urban Heavy Rail and Tram System
The entire design, supply, installation and maintenance of a complete urban heavy rail system including the track work,...
Heat Recovery Steam Generator (HRSG) Power Plant
A new power generation plant based upon heat steam recovery generator technology where the boilers are placed...
National Heavy Rail Link (High Speed)
A new 200km heavy rail link between two major cities consisting of trackwork, switchgear, signaling, overhead power...
Urban Railway System
An urban railway system inclusive various systems such as the rolling stock, trackwork, switches, contact rail,...
Waste Water Incinerator Plant
Toxic Waste Water Incinerator Plant comprising of all mechanical and electrical engineering installations...
Click here for details of our extensive Global Project Experience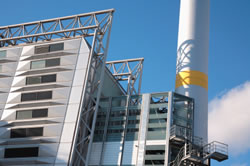 Our internationalism helps us better appreciate local market cultural and business related customs and practices